The Sex Diaries Project: An Overview with author Arianne Cohen
Date: 5:00pm PST January 31, 2013 Location: Gregg Pavilion
Arianne Cohen has spent years collecting anonymous seven-day sex diaries from people all over North America and the world – including college towns.
In The Sex Diaries Project On Campus, she takes you on a tantalizing tour through the sometimes shocking, always entertaining real diaries of college students, creating a compelling portrait of sex and sexuality on campus today that will forever change how you look at relationships.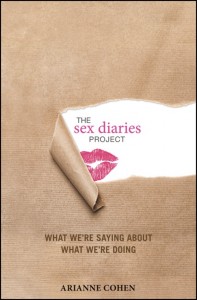 Each of these sex diaries is fascinating and thought provoking as the writers share their sexual and romantic fantasies and realities. But there's more to these stories than sex.
Arianne's talk explores the diversity of how students relate to each other sexually and shows how and why the definition of a relationship can vary so broadly from person to person.  She also discusses the latest in STDs and the many ways to have safe sex.
Her work appears regularly in publications such as the New York Times, the Guardian, Elle, and Marie Claire, among many others.
Light refreshments served.
Sponsored by Gender Studies Program. 
Contact: hugg@lclark.edu